The Music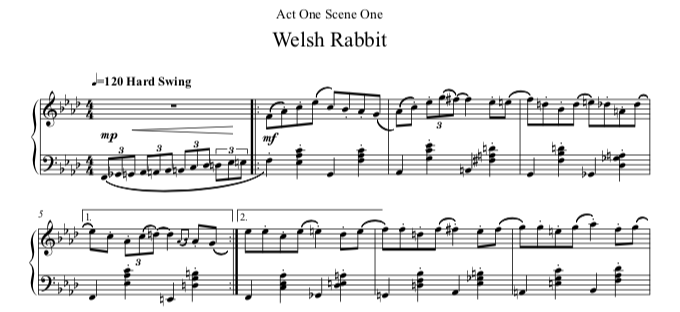 The musical score is most unusual, not only for opera but for music in general. The orchestra consists of the following: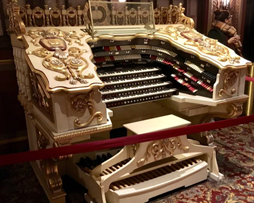 * A 3-manual, 12-rank theater organ circa the mid-1920s
* A hybrid jazz traps and electronic drum kit
* An electric bass guitar
* Several synthesizer voices
The theater organ alone gives the opera a rich, eerie sound. And when it is combined with the other instruments, and talented singers on top of it all, the electro-swing sound achieved is really quite new!
The Opera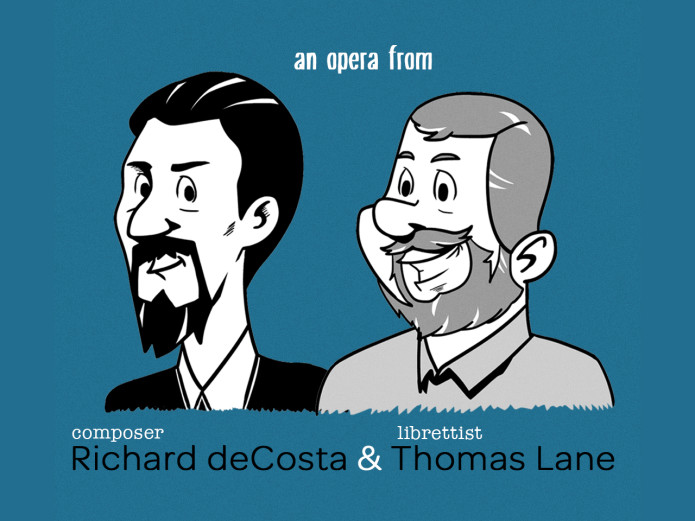 The opera we've created is based on a short story by Edgar Allan Poe, yet it is clearly in the genre of opera buffa or comic opera. What's that, you may well ask yourself. A comic opera based on Edgar Allen Poe? Yes, it was a challenge but, by no means, an impossibility. It turns out Poe did write a few humorous stories among his many grisly ones. This particular one is called Some Words with a Mummy.
In the story, an adventurous fellow in Poe's time and place (Baltimore, 1850) gets a message from a colleague, inviting him to come and view a genuine ancient mummy.
The narrator arrives at the home of Dr. Ponnanner, the owner of the mummy, and is joined by two other colleagues. After a good bit of poking and prodding, they see the mummy come alive, after which a number of hi-jinks take place.
The most important thing they learn—particularly the narrator, who is captivated by the notion—is that the strange creature could be mummified alive, then pick up, right where he left off in ancient times, once he is awakened.
The upshot of the tale is that the narrator determines to have this done on himself, so that he may be alive, well into the future.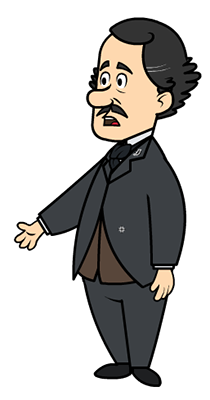 Fair warning for those who would rather read the tale from the old master himself, rather than entrust it to a couple of 21st Century punks, the story will almost certainly not touch or otherwise molest your funny-bone. Tales of terror were Poe's considerable strength, but he may not have been entirely comfortable writing a comedy. It is only comical when compared to such as pits, pendulums, and homicidal simians. Much of the tale is filled with scientific and pseudo-scientific mumbo-jumbo, which would very probably cause your eyes to glaze over and your attention wanders to the landscape of the planet Neptune if we were to present the opera as a literal transcription of the story.
To combat such a condition, we have taken outlandish liberties with the tale, to the point where we can only say the work is "based on" Some Words with a Mummy. But that is not a bad thing. Rather, it is a zany thing, as you will come to find out. If you like farce, then you have come to the right place.
The Libretto
As to the libretto, we have, as mentioned, taken a great many liberties with Ed Poe's prose. The very detailed anthropological and other scientific terminology would be difficult enough, even for a more educated listener, let alone your librettist, who took three foreign languages in high school to get out of taking any more than the bare minimum science requirement.
In order to fill the void created by the absence of hard science, we have inserted massive doses of tomfoolery, which is fitting, since the librettist's name is Tom. In addition to our many musical japes and jokes, we have expanded upon the character (an unnamed narrator) who starts and ends the story.
First of all, we have given him a name: Throckmorton FitzSpitzenkoff or Fitz, for short. Then we gave him a witty and sharp-tongued wife, Rosalita vonDoyberger FitzSpitzenkoff, henceforth referred to simply by her first name. Like her husband, she will be in the first and last scenes of the opera.
One way in which we did stay faithful to Poe's story was that we set it in Baltimore, in the middle of the 19th Century. Where we have fooled around with the time line, we did so deliberately and not out of ignorance.
The Animation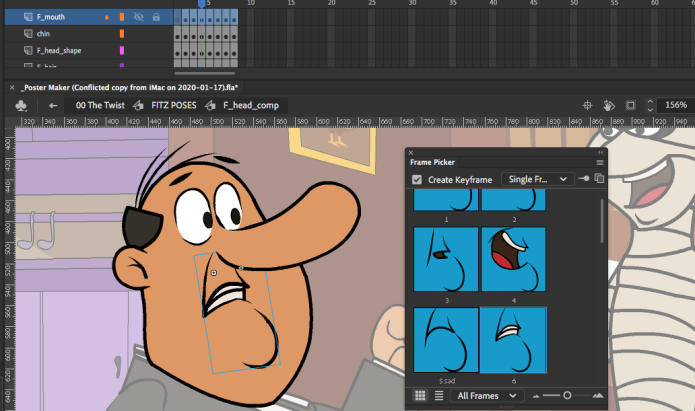 The opera is being presented in this instance as a feature-length animated holiday special. Talented artists from all over the globe are already working on bits and pieces, but the bulk of the animation is yet to come. This is where the bulk of the funding will go.
We use Adobe Animate (formerly Flash) for all of the visual aspects of the production. Each character is built up from many parts that can be manipulated and animated individually, or as a group.
Cast of Characters
Introduction:
Edgar Allan Poe
Mr. Usher
Man
Annabel Lee
Opera Proper
Throckmorton FitzSpitzenkoff (Fitz) – A well-to-do merchant with a passing interest in archaeology and a greater one in food.
Rosalita von Doyberger FitzSpitzenkoff – Fitz's long-suffering wife.
Doctor Ponnannor – A self-proclaimed scientist with a somewhat shady reputation.
Decius Brutus Gliddon – A friend of Fitz and the Doctor.
Silk Buckingham – Yet another friend.
Count Allamistakeo – A most non-conformist mummy
Here are the characters that are ready for animation at this time: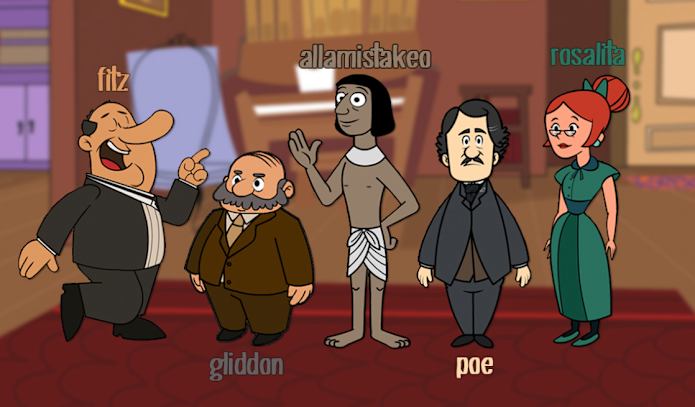 The Company
Richard deCosta
Composer, Director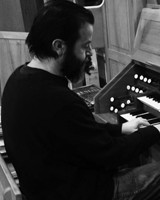 Richard deCosta (richarddecosta.com) has been writing music since age 10 after hearing and becoming entranced by Wagner's Ring Cycle on NPR. Almost entirely self-taught, he spent the next decades learning the craft of orchestral composition and arranging. Unlike most composers, Richard's main instrument is the drums, and the rhythmic obsession shows in his compositions. Since the early 90's he has diverged into composing in such diverse genres as jazz, Latin, rock, electronica, and most recently, electro swing.
In addition to orchestral and chamber music, Richard's composing credits include several short horror film scores, one feature-length zombie film score, How to Kill a Zombie, two seasons of the popular web series, Ragged Isle and a yet-to-be-completed epic space opera called Kai, Death of Dreams, which is sung in an alien language created by Richard.
Richard is a registered Maine fishing guide, private pilot, and drummer for the Saco River Jazz Ensemble.
Thomas Cleveland Lane
Librettist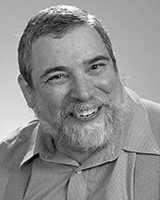 Thomas Cleveland Lane is a semi-retired actor, playwright, and poet, living in Gaithersburg Maryland. As a performer, he had the pleasure to act in the Gilbert and Sullivan operas, The Yeomen of the Guard, H.M.S. Pinafore, Patience and The Pirates of Penzance (twice). He has also performed in the traditional opera The Magic Flute, and the modern opera Evita. As a poet, he has two books of verse for sale on Amazon: Too Many Rhymes, Not Enough Brains (for school-age children) and The Lost Notebooks of Glub Dzmc.